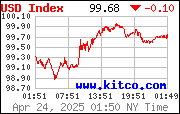 so you can cover your shameful nakedness; and salve to put on your eyes, so you can see.

The most valuable thing in this world is God's Kingdom and one's place in it, for that is the only thing
anyone can take with them when life on earth ceases. Therefore, they are being told to buy spiritual gold by
following the commands of Christ. Spiritual gold is a treasure stored in heaven, spoken of by Jesus when
He was here on earth.


U.S. NATIONAL DEBT CLOCK
Essential Principles of Economics
The Online Books Page
Top Secret Recipes
Philosophy
Reverse Phone Directory
Movies and Games, Reviews and Previews
PC Security Scan
Body Mass Index Scale and Calculator
Internet Bandwidth Speed Test
Best Mortgage Calculator
Funny Pics
Gold News
321gold.com
money.cnn.com
thebulliondesk.com
Silver-investor.com
Money.canoe.ca
Swissamerica.com
Resource Investor
Prudent Bear
FORBES MAG
Kitco Kcast-Real time Precious metals ticker bar
Alternative News
Rense.com
Worldnetdaily.com
Drudgereport.com
Prisonplanet.com
Truthout.org
Marketwatch.com
Freemarketnews.com
SMOKING GUN
CHRISTIAN SCIENCE Monitor